I have u,v,w scalars in data file from which I generate the velcity vector in Calculator, then use that to find curl(Velocity) in Python Calculator.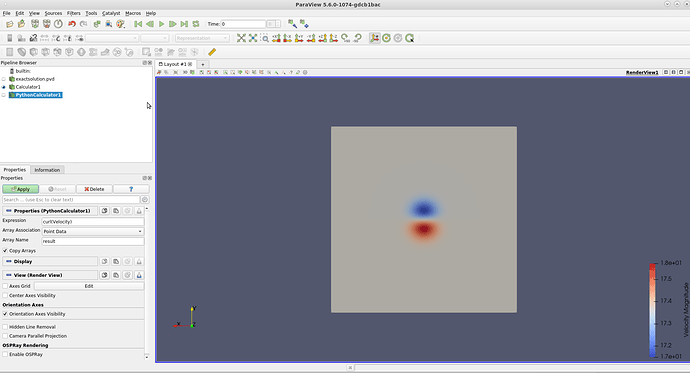 error.txt
(8.6 KB)
Using lagrange hexahedron of order 10, and finding the vorticity leads to error. Attached in "error.txt", the domain has a single vortex in the center as in the figure. File below:
https://drive.google.com/file/d/1Vy_LlV4MxyFxNrL7wtwNWVDMQKHz9iO7/view?usp=sharing
The vorticity calculation fails for anything greater than order 3. It gives out the same error as given above.
Even if using lower order of 3, the vorticity calculated is constant for a cell, which I think is wrong.I'm attaching the original files for the 3rd order below the image.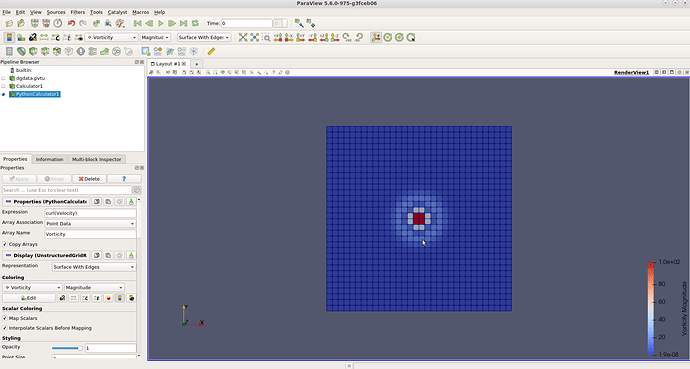 dgdata.pvtu (1.1 KB)
dgdata0000.vtu (2.9 MB)
dgdata0001.vtu (2.9 MB)
dgdata0002.vtu (2.9 MB)
dgdata0003.vtu (2.9 MB)
dgdata0004.vtu (2.9 MB)
dgdata0005.vtu (2.9 MB)