Hello,
(Paraview 5.10.0-RC1 on Windows10)
I'm trying to use the LagrangianParticleTrancker, and I'm wondering how to set the "Flow Density" and "Flow Dynamic Viscosity" parameters. In my simulation (in SimVascular), these are fixed values respectively worth
Blood Viscosity = 0.04 g/cmxs2
Blood Density = 1.06 g/cm3
However, they are not present in my "all_results_00*" file. So I would like to create and add them there.
The problem is the following:
how to create a point data array with a constant value on the whole volume?
how to merge this point data array to my main file "all_results_00*"" in order to be able to set up the Lagrangian tracker.
I tried to define these values (fixed on the whole volume) with the "Calculator", and then to use the "Group Dataset" filter to add these values to "all_results_00*". However, both values are displayed as "partial" in the created DataSet.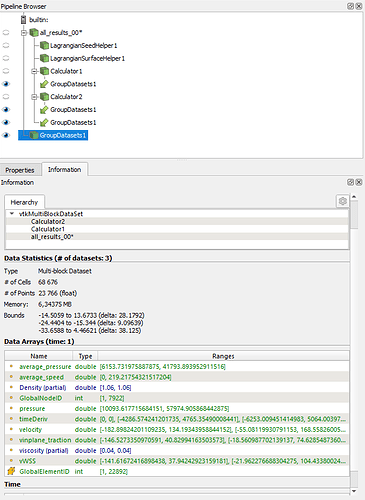 Do I have to use a Python Programable Filter to do this (as I saw on some topic)?
Thanks !