Hi,
I'm interested in the possibility of interpolating a set of X/Y/Z/value data in 3D, and then working towards incorporating a time component to it so that animations can be generated. I tried to follow the information here (link), but wasn't able to get those filters to work for me…and the descriptions of them did not sound like the would do the right thing?
I have been able to (sort of) do the first part with the Gaussian Resampling filter but it's not a very good 3D interpolation of the data and looks more like a discrete blob placed around each data point, and points in proximity to each other do not interact in the interpolation in the sort of way that you would expect form something like Kriging (for example).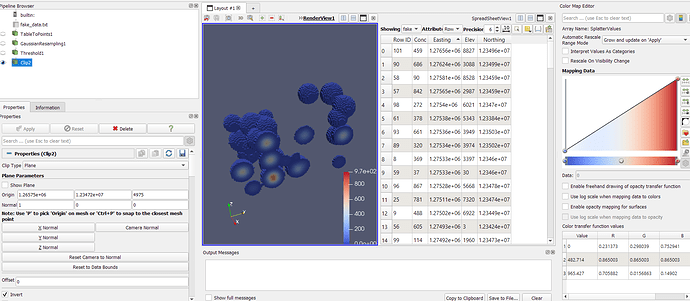 Are there any other more sophisticated ways to interpolate data in 3D within ParaView, e.g. Kriging? My data is likely to be very dense and pretty uniformly distributed so something simple may suffice.
Would the best way to extend this work-flow to include the time dimension? I am aware of the capability of using VTK files for each time step and a pvd file to organize it all…but I cannot get an XML format file to work for points only (question here). Also, it seems like it should be easier to just have a 'time' category in the data and somehow link that to the 'time' in ParaView so that when time advances in the animation it simply updates the data set to use only those from the current time step? Is something like this possible?
[Edit] I have discovered that I might be able to just use simple XYZval format in a text file if the naming convention is consistent. I can import these as a group:



…but I am struggling to figure out how I can assign these to different time steps other than 0,1,2,3,4…etc. The output times from my modelling are not guaranteed to be of uniform timestep length, so is there any way to associate these with actual times rather than 0,1,2,3,4 etc…?
Thanks!