For a really long time, I have been annoyed by ParaView's propensity to show nested scrollbars. For example, see the information panel: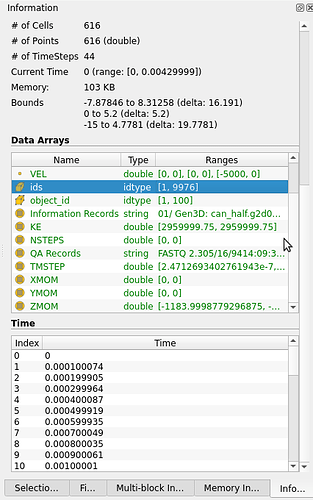 The same thing happens on Properties panel too when widgets for array selection for reader, for example, have too many rows.
To avoid showing these inner scrollbars we have added custom code allowing the table widget to grow to fit at least a certain number of rows before it opts to show scrollbars. Of course, we can make the widget grow indefinitely and avoid the scroll bar problem, but then panel can grow quite long and become very cumbersome.
How about at alternative approach:
the inner widgets, like these array or time widgets on the Information panel, will never show a scroll bar.
these widgets keep their height as compact as possible, however they can grow to fit a certain per defined set of rows automatically. This number of row to grow to fit should be specifiable in the settings. For users will tall monitors, one can easily set a higher value. For someone like me who has a fairly short monitor, I'd keep this low.
when the widget has more rows than the limit, instead of showing scrollbar, it adds "grow" button as the last row in the widget. The user can click this button to show all rows. When showing all rows in this mode, the last row gets converted to "shrink" button. The user can click that to shrink the widget back.
The grow state for a particular widget should get saved in settings too so the user doesn't have to keep changing it. For example, I'd see myself always have the "Data Arrays" widget in the Information panel be fully expanded, but perhaps not the "Time" one.
Thoughts?