I am passing data on a rectilinear grid to Catalyst for in-situ visualization.
I set up the grid in the function createcpdata_ in the attached file FECxx.cxx (4.2 KB)
I have the python-coprocessor script currently output the data using the XMLPRectilinearGridWriter (see the attached file coproc.py (2.8 KB)).
This generates a main .pvtr file not holding any data but referring to the multiple .vtr files in a subfolder which are generated by the different MPI ranks.
For debugging purpose I am processing a small dataset using two processes, and 7×6×5 cells in total. The first process gets 5×6×5 cells, the second one gets 4×6×5 cells. These overlap by two layers in the x-direction, since the cells of each process contain one layer of ghost cells on all six sides.
When loading the main .pvtr file I am confronted with missing cells as can by seen in the following slice:


The blueish cells belong to rank0. I expect to see 3×3 cells, that's fine. For some reason, the cells written by rank1 are not entirely visible. Here the first layer of cells normal to the x-axis is lacking.
When loading the two corresponding .vtr files individually into Paraview, then I get a seamless representation with only the ghost cells being hidden. In the following visualization I sliced the data of the two .vtr files at slightly different levels of y: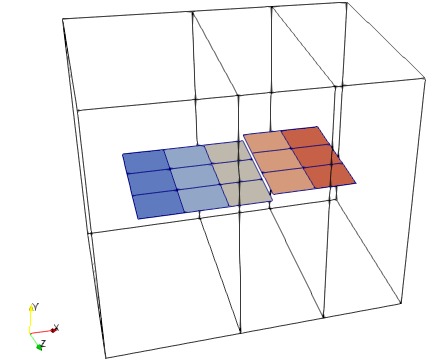 Here is the data (.pvtr and .vtr files): data.zip (1.7 KB)
Should I open an issue somewhere else?
Is there a workaround?
I can reproduce this behavior in Paraview 5.5.2 and 5.6.0