Hello,
i am trying to calculate the mass flow / surface flow through a slice inside a pipe, as you can see in this picture.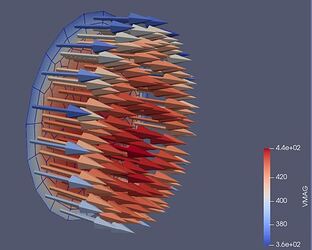 I know, there is a SurfaceFlow filter which should actually do this job for me, but i think i am using it wrong. To use this filter i need point data instead of cell data. And the filter gave me following results:


But i dont get how paraview is calculating this SurfaceFlow value, because when i simply integrate all the variables of the cell data slice, i can multiplay VMAG, which is nearly perpendicular to the surface in this operating point, and the surface area.


So this should give me nearly the same value as the SurfaceFlow filter, but it is totally different. Instead it is nearly the same value as VEL_Magnitude of SurfaceFlow1.
I really dont understand what im doing wrong. And why is the SurfaceFlow value negative? The velocity vector components have nearly the same direction as the surface normale of the slice.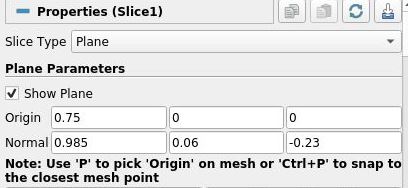 And to get the massflow i think i should use a calculator in the beginning multiplying the density and the velocity vector and then use this new vector for the SurfaceFlow filter, right?
I hope you can help me with this issue.
Thanks a lot!
Robin