The following Python code converts a .vtk file to a .vtp file for viewing using e.g. Glance:
# Read VTK
reader = vtkStructuredGridReader()
reader.SetFileName(filename + ".vtk")

# Extract surface
surface_filter = vtkDataSetSurfaceFilter()
surface_filter.SetInputConnection(reader.GetOutputPort())

clean_filter = vtkCleanPolyData()
clean_filter.SetInputConnection(surface_filter.GetOutputPort())

# Save output to a VTP file
writer = vtkXMLPolyDataWriter()
writer.SetFileName(filename + ".vtp")
writer.SetInputConnection(clean_filter.GetOutputPort())
writer.Write()

This works fine, but when I have multiple fields, such as Directivity_dBi and Directivity_linear:
# vtk DataFile Version 3.0
3D Farfield
ASCII
DATASET STRUCTURED_GRID
DIMENSIONS 1 91 181
POINTS 16471 double
-1.000000e+00 1.000000e+00 4.006663e+01
4.257683e-01 1.000000e+00 4.003194e+01
1.847900e+00 1.000000e+00 3.993014e+01
...
-1.000000e+00 1.000000e+00 -1.754531e+01


POINT_DATA 16471
SCALARS Directivity_dBi double 1
LOOKUP_TABLE default
7.775559e+00
7.765758e+00
7.738521e+00
...
-1.634019e+01
-1.635408e+01
-1.633920e+01

SCALARS Directivity_linear double 1
LOOKUP_TABLE default
5.991781e+00
5.978273e+00
5.940897e+00
...
2.322637e-02
2.315217e-02
2.323166e-02


…it only seems to write Directivity_dBi to the .vtp file, ignoring Directivity_linear completely. I am able to view pattern_1_2400000000.0.vtk and both Directivity entries are there: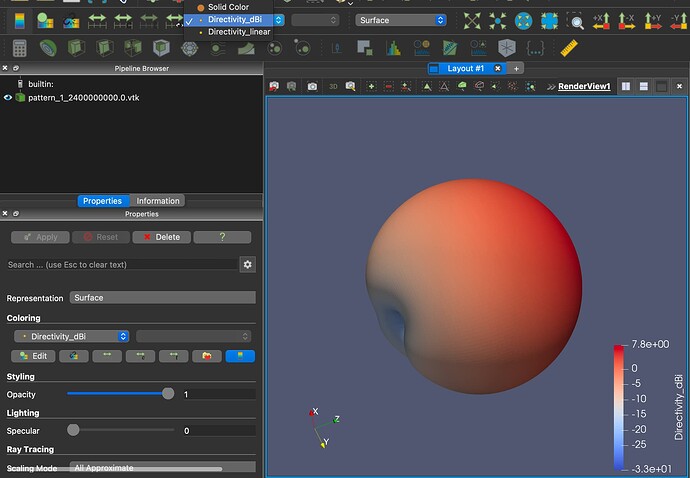 ---
Attached both files for reference (input .vtk and output .vtp):
---
Is there anything I could modify to ensure both data fields are passed?