Hi everyone,
I am currently trying to load a custom data format through a python plugin.
An external python module returns a 2D numpy array, which I want to process further in Paraview.
I initialized the plugin with
VTKPythonAlgorithmBase.__init__(self, nInputPorts=0, nOutputPorts=1, outputType='vtkImageData')
For RequestData I modified the routine from the python plugin example in the paraview github repo as follows:
def RequestData(self, request, inInfoVec, outInfoVec):
        from vtkmodules.vtkCommonDataModel import vtkImageData
        from vtkmodules.vtkCommonCore import VTK_DOUBLE

        #Get data for requested timestep
        data_time = self._get_update_time(outInfoVec.GetInformationObject(0))
        raw_data = self._get_raw_data(data_time)

        #Create output adapter
        output = vtkImageData.GetData(outInfoVec, 0)
      
        #Convert numpy array to image
        frame_data = paraview.python_view.numpy_to_image(raw_data)

        #Set extent of data
        frame_data.SetExtent(0,499,0,119,0,1)

        #Give it a name
        frame_data.GetPointData().GetScalars().SetName("sonar data")

        #Copy to output
        output.ShallowCopy(frame_data)

        #Set scalars to "active" (no idea what that does, found another code example that did that)
        output.GetPointData().SetActiveScalars("sonar data")

        #Again, copied from another code example
        output.Modified()

        #Copied from the code example from the paraview github repo
        if data_time is not None:
            output.GetInformation().Set(output.DATA_TIME_STEP(), data_time)

        #Return success
        return 1

When I load a file using this code, Paraview seems to load the correct number of points and even the correct values (at least I think it does, because the scale is scaled correctly), but doesn't show anything. I tried pressing the Reset Camera and Zoom To Data buttons, but to no avail.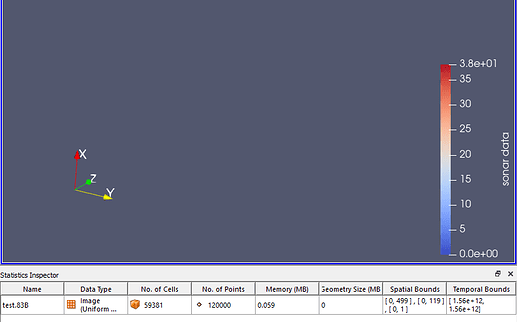 Any idea why that would happen?
Thanks in advance!