Dear all ,
I'm trying to do a Programmable Filter with a dynamic drop down list, where the displayed properties in the GUI depend on the selected option in the drop down list (See cases A and B in the next figure):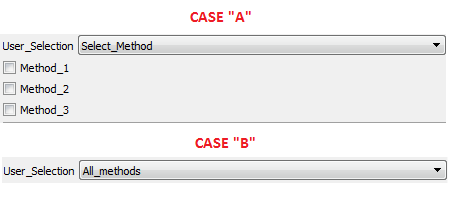 So far, I succeeding in creating this interface in the filter, i.e., this dynamic drop down list appear when I apply the filter and I obtain the cases A and B from the figure. You can check this by using the attached PVSM file (it requires first to load the plugin -xml file-).
However, when I click on the "Apply" button, there is an error related to the XML file:
Object type: vtkPythonProgrammableFilter, could not find requested method: "SetParameter" or the method was called with incorrect arguments.
I have the feeling that the error come from line 80 (XML file) because I used command="SetParameter" whereas in the original example (https://github.com/themiwi/ParaView/blob/master/Examples/Plugins/ParametricSource/ParametricSource.xml) it is used "SetParametricFunction".
Do you have any idea to solve this problem?
Thanks in advance.
Miguel Angel AGUIRRE
DROP_DOWN_ERROR.pvsm (292.5 KB) DROP_DOWN_LIST_TEST.xml (2.6 KB) PV_ERROR_TEST.cas (298.6 KB) PV_ERROR_TEST.dat (491.3 KB)