Hi all,
I am still new to ParaView and this issue I have did not appear in previous threads so I thought to raise a new one.
A few days ago I asked a question about using ParaView GUI to identify faces of a given geometry and got suggested this beautiful solution by @Kenneth_Moreland: Accessing points associated to a cell from the Programmable Filter or Python Shell - #5 by Kenneth_Moreland
Based on the method of @Kenneth_Moreland, I was able to access individual faces by a property RegionId, which is created from the Connectivity filter.
I am now trying to select the individual faces based on this RegionId. I can already do this using the Find Data panel, as shown in the image below: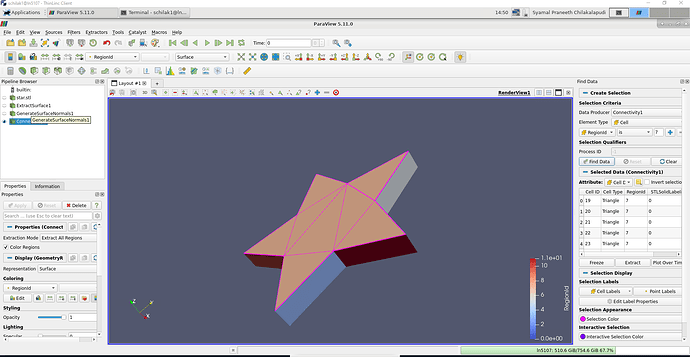 Using the
Extract
option in
Find Data
gives me the selected surface (All cells with RegionId=7).
Is it also possible to do the same selection of the surface (i.e., all cells with RegionId=7) via GUI? Perhaps there is an option within selecting within Views that is not obvious to a newbie like me? (Relevant docs page: 6. Selecting Data — ParaView Documentation 5.11.0 documentation).
A relevant ParaView state file for the star geometry in the image above is attached to this post.
Many thanks in advance for your help and advice!
Praneeth
Attachment:
star.pvsm (532.3 KB)