Hey guys, finally had some free time to test out the backplate/env changes in the 5.10-RC1 release, and it seems like 5.10 breaks the feature my company paid to have implemented in 5.9? Path traced environment doesn't seem to be working anymore with an image loaded? I can get it somewhat work with a basic color, but wanted to talk to you all to make sure I wasn't missing something.
Steps to reproduce:
• Turn on raytracing with OSPRay pathtracer
• Set sphere to "Alum Mirror" or other high reflection mat
• Load in .hdr env map as "Path traced env" (HDRIs • Poly Haven)
• Mess with background mode toggles
Old Correct behavior (5.9):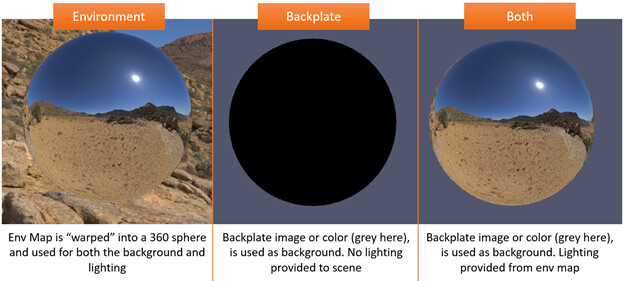 Also, when you pull up the path traced images it has every single texture from my material database linked. That completely crowds up the list and should not be done. Those are all low-res texture images that are not suitable for backgrounds.
I know @timothee.chabat was messing with this functionality a while back, and I wanted to see if I was missing something and provide some feedback.
Thanks,