Hi all,
I am trying to upload two 3D .tiff images on paraview to make a visual comparison.
These images have a different number of voxels and a different voxel size, but eventually the dimension should be "equal" or, at least comparable, as follows:
Image1–> 148 (number of voxel) x 0.5 mm (voxel size) = 74 mm
Image2–> 267 (number of voxel) x 0.273 mm (voxel size) = 73 mm
However, what happen is that the second image (in yellow, which has higher number of voxel) is higher than the first (the blue one) [see attached file]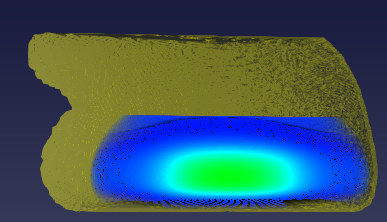 .
I know that Paraview doesn't have unit, however there is any way to make this comparison?
I noticed that you can customize your data spacing when uploading the images, is it the only way to do that? Is there a better way to implement real dimension?
Many thanks for any help you will provide me!