Hi there!
We are trying to use the high-order Lagrange VTK cells first (?) presented in this blog post. We've had some success in getting curved 4th-order VTK_LAGRANGE_QUADRILATERAL cells to be visualized in ParaView, but when comparing it on a rectilinear domain against the result of a classical, piece-wise constant VTK_PIXEL mesh, the results are somewhat underwhelming. We thus figure there might be something wrong with the way we create the Lagrange cells.
Just to recap, we create each VTK_LAGRANGE_QUADRILATERAL with 4 by 4 points, as shown in the blog:


However, the resulting images suffer from weird "spots" and a clear degradation of the quality near the element boundaries (here on a 2-by-2 mesh, each with a 4-by-4 Lagrange quad):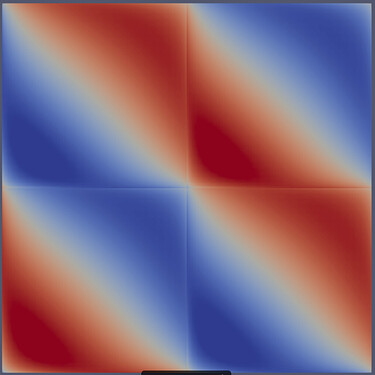 Is there anything that you need to be aware of when creating these cells besides the order of the points? For example, we are using the Legendre-Gauss-Lobatto nodes as the points for visualization - is this correct or would we have to use a different set of nodes (e.g., Chebyshev-Gauss-Lobatto, equidistant etc.)? Any kind of input would be highly appreciated!