As written in the blog post vtk recently supports rational Bézier cells. The two and three dimensional cells are visualized as expected by ParaView but the curve elements seem to be broken.
Beziér curve with nonlinear subdivision level 4 is not rendered as expected. Only the control polygon is visible:
The VTK source file is VTK_BEZIER_CURVE_quadratic_quarter_circle.vtu.
Examplary, the surface element VTK_BEZIER_QUADRILATERAL_Piegl_figure_5.20.vtu works as expected, even for 2D surfaces embedded in 3D space: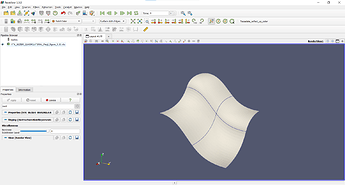 I'm using ParaView 5.9.0 on a Windows 10 machine.