First, I know about the NumPy interface. It isn't doing what I need it to. See the other discussion: Slow Programmable Filter
I've written a programmable filter for some analysis I'm doing, but it's returning odd results. I'm expecting a new CellData field, but I'm getting something that looks like it's averaged over blocks (in addition to being wrong). Does anyone have any insight?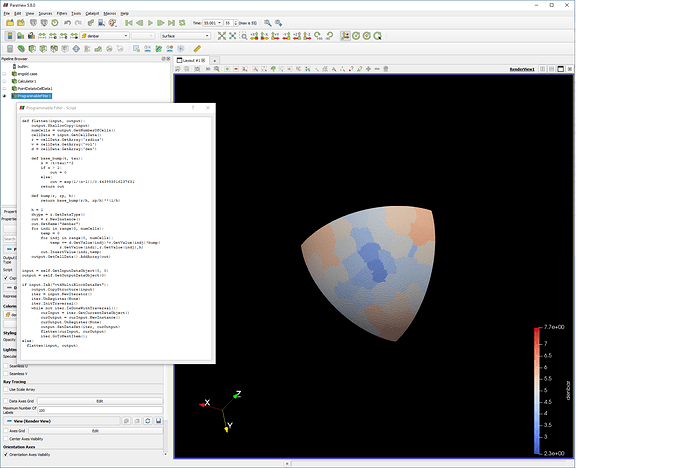 This is approximately what I would expect to see.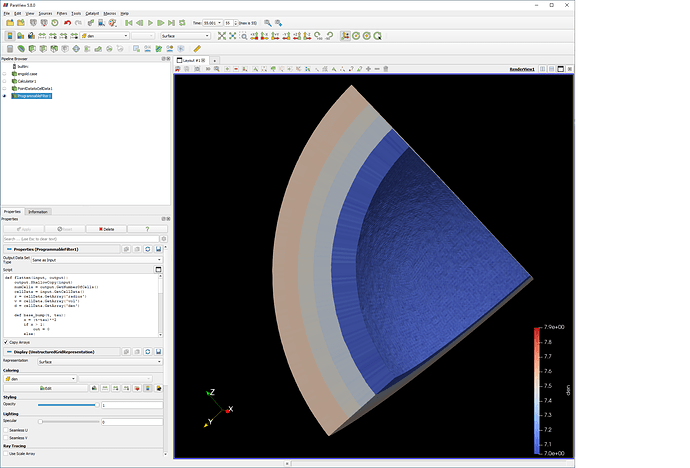 def flatten(input, output):
    output.ShallowCopy(input)
    numCells = output.GetNumberOfCells()
    cellData = input.GetCellData()
    r = cellData.GetArray('radius')
    v = cellData.GetArray('vol')
    d = cellData.GetArray('den')

    def base_bump(t, tau):
        x = (t-tau)**2
        if x > 1:
            out = 0
        else: 
            out = exp(1/(x-1))/0.443993816237631
        return out

    def bump(r, rp, h):
        return base_bump(r/h, rp/h)**(1/h)

    h = 1
    dtype = r.GetDataType()
    out = r.NewInstance()
    out.SetName("denbar")
    for indi in range(0, numCells):
        temp = 0
        for indj in range(0, numCells):
            temp += d.GetValue(indj)*v.GetValue(indj)*bump(
                r.GetValue(indi),r.GetValue(indj),h) 
        out.InsertValue(indi,temp) 
    output.GetCellData().AddArray(out)

input = self.GetInputDataObject(0, 0)
output = self.GetOutputDataObject(0)

if input.IsA("vtkMultiBlockDataSet"):
    output.CopyStructure(input)
    iter = input.NewIterator()
    iter.UnRegister(None)
    iter.InitTraversal()
    while not iter.IsDoneWithTraversal():
        curInput = iter.GetCurrentDataObject()
        curOutput = curInput.NewInstance()
        curOutput.UnRegister(None)
        output.SetDataSet(iter, curOutput)
        flatten(curInput, curOutput)
        iter.GoToNextItem();
else:
  flatten(input, output)