I tried the new ExtractBlock filter and it functions just as expected (no more changing parts between timestates!) but I have a few comments/concerns.
From what I see the only way to directly set the xpath-style selectors is through Python.
For some reason I was expecting to have some kind of text input in the ExtractBlock properties. Was this ever under consideration? I think it would add much value for non-power users.

It appears that blocks starting with a number need an underscore prefix. Can this requirement be removed? It's going to be one of those things that I end up telling every user at least once and they're all going to say "Ahhhh. Why? That's stupid"

Example: The following selectors correspond the the block selections in the GUI:
['/Root/Solid/_1_soil_tube', '/Root/Solid/_3_HE']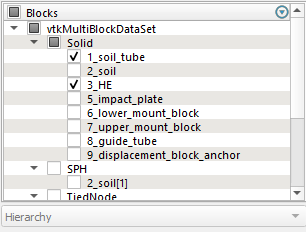 What is up with the drop-down menu below the Blocks structure? Under what circumstances can I except this menu to contain multiple options and how does it affect the selection process?

I can select all the Solid blocks in the above image using ['/Root/Solid/*'] but I cannot select parts 6 and 7 using ['/Root/Solid/*block']
And using ['/Root/*/_2_soil'] selects only the block under Solid.


Using simple wildcards (I suppose regex is too complicated) would add a ton of value, at my company at least. We work with large assemblies and generally use pretty tight naming schemes (the example above is not a good representation of our typical model).

Is there a way to use the shown top-level block name instead of (or ideally in addition to) 'Root'? I expect users are going to try ['/vtkMultiBlockDataSet/Solid'].