As we transition from the buildbot dashboard system to GitLab continuous integration (gitlab-ci), there are some new things that need to be done to test new merge requests. After running Do: test, you will also need to start the existing GitLab-CI runs. Results from this manual step will still be posted to the CDash page linked to the Do: test command.
Here's what you need to do.
In the merge request page, click the Pipelines tab.

The latest commit is shown at the top. You can run jobs by clicking on the popup menu on the right and selecting the pipeline to run. Or, for more information about the jobs running and/or complete, click the pipeline number that appears in the Pipeline column. That takes you to a page that looks like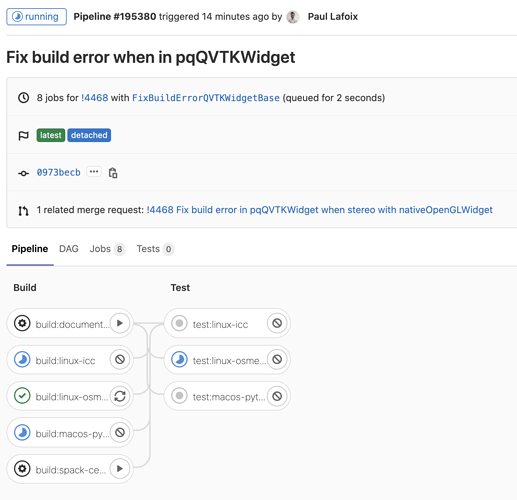 Under the Build column, you can see the builds available in rectangles with rounded ends. The status of builds for the pipeline appears on the left of the button. A gear icon means that the build hasn't been run yet. A blue partial pie chart means the job is running. A green checkmark means the build succeeded. A red X means the build failed. You can click on the rounded ends to see output from the build see see what went right or wrong.
To start a build, click the play button on the right side of the build name.

This is the key step to get builds to run, and the new thing you need to do for new merge requests.
After you click this button, it will change to

Clicking the button on the right while the job is running will cancel it.