Dear ParaView community,
For years, we have had the ParaView User Voice for tracking popular feature requests for ParaView. The site is difficult to administer, it is not often checked, and there has recently been a surge of spam where feature requests should go. We would like to improve on this.
As a replacement, one idea is to use GitLab for feature requests. GitLab has several strengths that can mimic and even improve upon the UserVoice site:
GitLab issues offer thumbs up/thumbs down icons to indicate popularity for an issue.
When looking at a list of issues, you can sort them by popularity. With existing issues, that looks like the below image: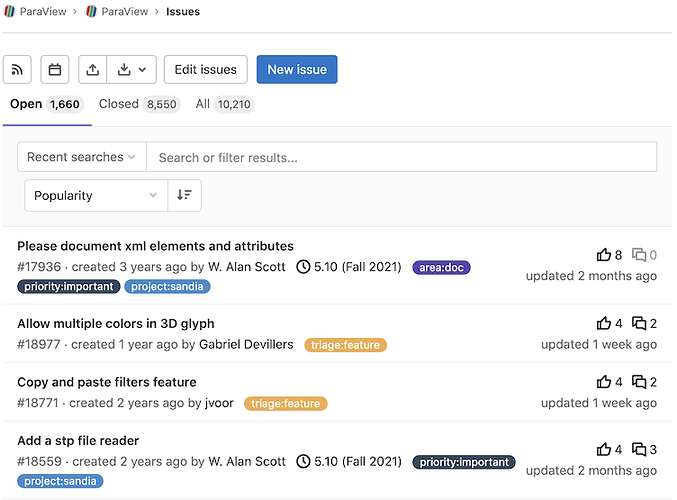 GitLab supports searching by tags. If we tag feature request issues with a particular tag, then listing them alone and sorting them by popularity mimics the UserVoice site capabilities. We already have triage:feature label, but might want a non-triage version of that.
New issues can be created from a link and pre-filled with a feature request template specified in the URL. The "Request a Feature" link at paraview.org could thus be changed to a URL that initializes a feature request issue template that labels the new issue a feature and whatever other boilerplate is useful.
When a new feature is added, linking back to the original request and closing it is easy.
ParaView developers use GitLab all the time - as such, we will be more aware of highly requested features
We should be able to import the existing UserVoice issues into GitLab without much trouble, but I'm not sure about importing the vote tallies for each issue.
Thoughts? Concerns?