Hello,
I would like to do particle tracking with the "ParticleTracer" filter on a .vtu temporal file.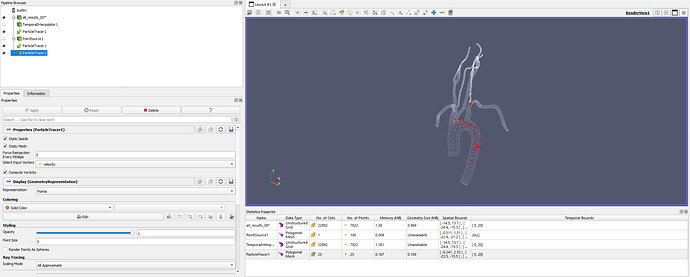 However, I have several questions:
Why do some particles disappear (apparently when they touch a surface?)

Some particles stick to the walls and get stuck. Is it possible to prevent this?
==> Is it possible to make sure that all the particles that are simulated to enter eventually come out?
After some iterations, when some particles go out of the calculation domain, Paraview crashes. I have done several experiments and I don't really understand why.
*The parameters I use are the following: *
*Source point : *
Number of points: 100
Radius = 1
*ParticleTracer : *
*Force reinjection every Nsteps: 0 (only one particle pool is simulated) *
Select Input Vector: velocity
Thanks in advance for your answers!
fdekerme