Hello,
I would like to render the stress distribution inside a deformed structure and keep showing the contour/boundaries of the undeformed one.
As my structure is symmetric, my input results correspond to one half (1 on the first figure). I then use the Reflect filter to have the full structure (2 on the first figure). To have only the borders of the undeformed structure appearing, I use Feature Edges representation instead of Surface (3 on the first figure).


However, the edges common to both halves (symmetry axis) are still appearing (highlighted in red for clarity) … I would like to get rid of it. Do you have suggestions?
Here is the final rendering that I obtain, with the undesired edges on the symmetry axis: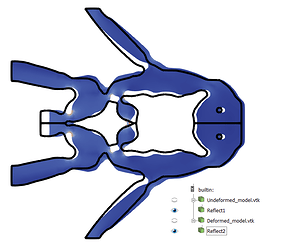 Thank you for your time.