I maintain a code that performs diffusion and chemistry simulations on an unstructured mesh. Calculations are performed on objects that have a surface mesh and an interior mesh. Meshes are based on 3D Voronoi tessellations. Each mesh point "owns" a volume that corresponds to its Voronoi cell. The surface of the object is defined by a triangulation on the set of surface points. My code can perform its own rendering, including cross sections that reveal the interior. Example rendering, performed on a spherical-shell-shaped object: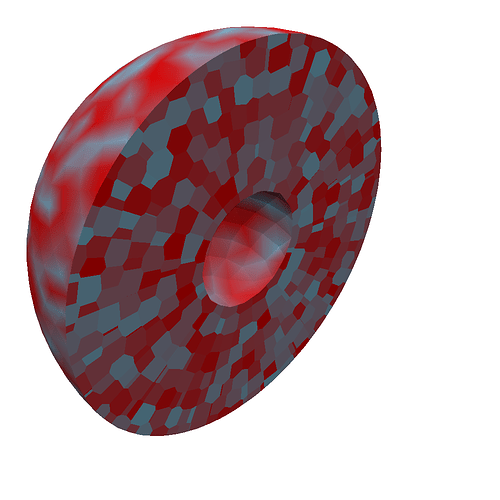 I'd like to add to my code the ability to spit out some kind of data file that can be read and rendered by ParaView in order to take advantage of ParaView's much more flexible rendering capabilities.
I am brand-new to ParaView. I downloaded it for the first time a couple of weeks ago and have been fiddling with it, but I can't figure out how to render an image like the one above. I've consulted all the tutorials and guides I can find, and I can't see anything that matches. Furthermore, I'm not really familiar with any of the data formats that ParaView supports. I managed to figure out what a vtk file is, and I wrote a widget into my code that writes a vtk file describing the surface polygons (triangles), points, and "lines" (Voronoi neighbor relationships between points). I can load this into ParaView, invoke "clip", and create the image below: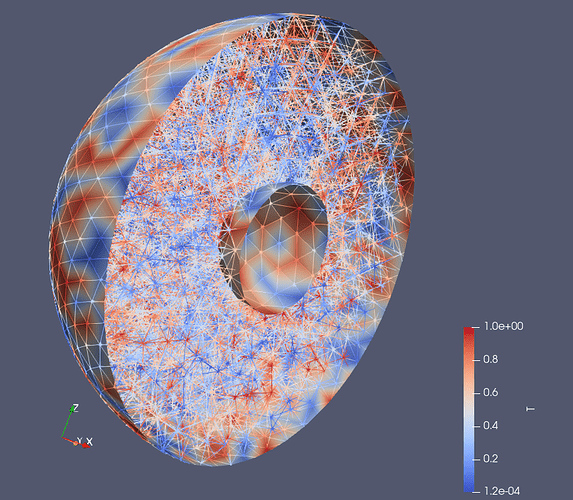 How can I get ParaView to render the cross-section plane of the interior revealed by the clip operation? What kind of data file format should I have my code spit out, and what information should it contain? What ParaView options should I invoke to get an image that is roughly similar to the top image above created by my code? It doesn't have to be exactly the same. For instance, if it interpolated the interior slice somehow instead of using the nearest-neighbor color, that would be fine.
Here is the vtk file my code spit out and which I've used to generate the ParaView render above:
ParaViewTest.vtk (600.8 KB)
Thanks very much!