Hello, I'm trying to visualizing vtk file in linux server for automation.
So, I got python script from paraview in window version 'Tools - Start trace'.
I'm doing quite simple job. 'Contour', change 'Coloring' as a solid color and 'Save screenshot
The traced python script works at my window and mac computer (pvpython *.py), but returns a segmentation fault at Linux server.
Paraview version information are:
Windows: ParaView 5.9.1-Windows-Python3.8-msvc2017-64bit
Mac: Paraview 5.9.1-MPI_OSX10.13-Python3.8-64bit
Linux: ParaView 5.9.1-MPI-Linux-Python3.8-64bit
I attached python script (pv_script_from_trace.py) and sample vtk file (sample.vtk).
pv_script_from_trace.py (6.0 KB)
sample.vtk (2.1 MB)
I used the following command,
$ pvpython pv_script_from_trace.py
When I'm using this one in linux system, attatched segmentation fault occurs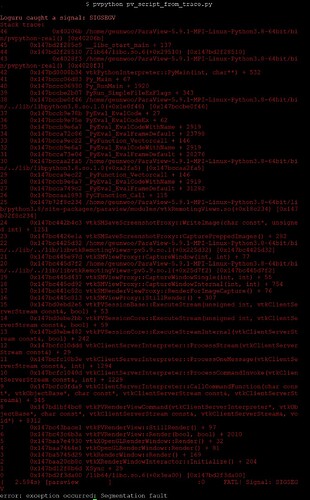 Probably, the error occurs at 'SaveScreenshot' part in line 139 of python code.
Why is it happen? Can anyone help me to solve this problem?