Dear Paraview users,
First of all I would like to point out that I am a beginner in Paraview, therefore please excuse my lack of depth in the field.
I am dealing with a vtk file which contains the (x, y, z) components of a current density vectorial field that is defined within a rectangular box. What I would like to do is to slice that input data, not with a plane or the other available slice types, but with a Cone strategically placed.
The actual set of data is pretty heavy, so in order to illustrate my problem, I built a dummy set of data: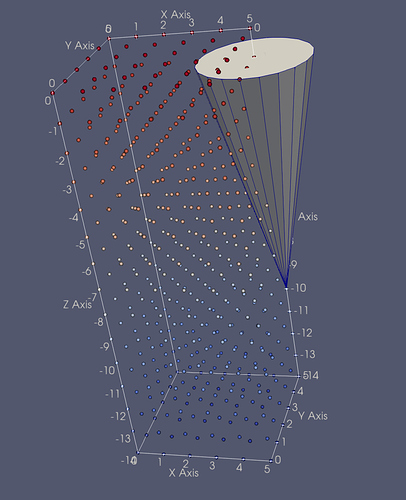 Let's assume that the dots represent a component of the current density field within space. In a nutshell I am trying to extract the components of that field that lie on the surface of the Cone.
I am a bit puzzled on to how to attack this problem properly. I did try a few things around the Resample to Dataset filter but without any success.
Any advice or help is welcome !