Hi,
I am trying to read in the attached data and plot it out using the Table to Structured Grid command. From the web, it seems as though the extents should be X_points-1, Y_points-1, Z_points-1 (or 9999, 9999, 9999 since there are 10,000 points in each direction). However, when I do that, I keep getting the error that follows this message.
Can someone explain to me what I am doing wrong? Thank you,
Alan
test4.txt (369.3 KB)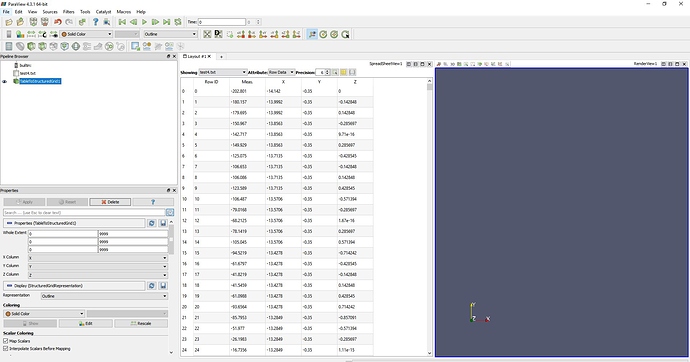 ERROR: In C:\DBD\pvs-x64\paraview\src\paraview\VTK\Filters\General\vtkTableToStructuredGrid.cxx, line 98
vtkTableToStructuredGrid (000000000F40B460): The input table must have exactly -727379968 rows. Currently it has 10000 rows.
ERROR: In C:\DBD\pvs-x64\paraview\src\paraview\VTK\Common\ExecutionModel\vtkExecutive.cxx, line 784
vtkPVCompositeDataPipeline (0000000018549C00): Algorithm vtkTableToStructuredGrid(000000000F40B460) returned failure for request: vtkInformation (000000001A9F24F0)
Debug: Off
Modified Time: 712944
Reference Count: 1
Registered Events: (none)
Request: REQUEST_DATA
ALGORITHM_AFTER_FORWARD: 1
FORWARD_DIRECTION: 0
FROM_OUTPUT_PORT: 0
ERROR: In C:\DBD\pvs-x64\paraview\src\paraview\VTK\Common\ExecutionModel\vtkExecutive.cxx, line 784
vtkCompositeDataPipeline (000000001882B730): Algorithm vtkPVGeometryFilter(000000001882A150) returned failure for request: vtkInformation (000000001A9F1240)
Debug: Off
Modified Time: 712516
Reference Count: 1
Registered Events: (none)
Request: REQUEST_DATA_OBJECT
ALGORITHM_AFTER_FORWARD: 1
FORWARD_DIRECTION: 0
FROM_OUTPUT_PORT: 0