Hello,
I would like to connect from my macbook to ubuntu server having NVIDIA graphic card. But I met two problems:
First, I couldn't use "OptiX pathtracer" when I connected to ubuntu server.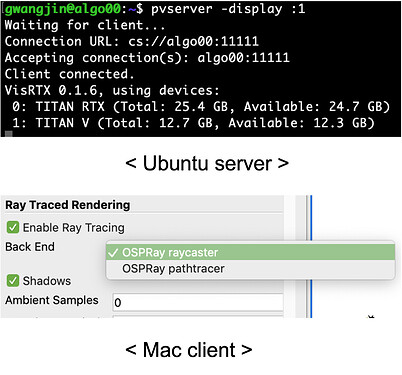 Second, I couldn't use "IndeX plugin":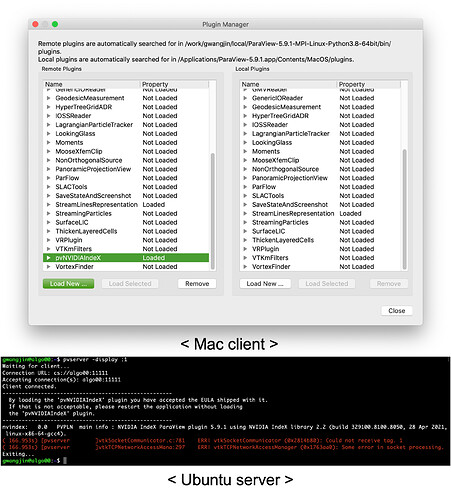 The error messages were
gwangjin@algo00:~$ pvserver -display :1
Waiting for client…
Connection URL: cs://algo00:11111
Accepting connection(s): algo00:11111
Client connected.
By loading the 'pvNVIDIAIndeX' plugin you have accepted the EULA shipped with it.
If that is not acceptable, please restart the application without loading
the 'pvNVIDIAIndeX' plugin.
nvindex: 0.0 PVPLN main info : NVIDIA IndeX ParaView plugin 5.9.1 using NVIDIA IndeX library 2.2 (build 329100.8100.8050, 28 Apr 2021, linux-x86-64-gcc4).
( 166.953s) [pvserver ]vtkSocketCommunicator.c:781 ERR| vtkSocketCommunicator (0x2814b80): Could not receive tag. 1
( 166.953s) [pvserver ]vtkTCPNetworkAccessMana:297 ERR| vtkTCPNetworkAccessManager (0x1763aa0): Some error in socket processing.
Exiting…
Is it impossible to use NVIDIA graphic card of (ubuntu) server in clinet-server mode?
Thank you.