Dear paraview community!
I am working on a wind study within an urban context. For meshing and simulation I used simscale, now I want to visualize the results in paraview. For doing so, I set a slice in z direction, hight 1.5 m as I want to show the effects for humans. As I want to show wind speed, for coloring I selected "U" and "magnitude".
There are two different U options, one with a orange dor, the other with a box. I understand, that U with a box shos the exact cell data, while U with a dot shows an averaged value.
For my example I would like to use the averaged option, but the transition between buildings and open space doesn't seem to be right, as it is heavily disrupted by the blockMesh structure. Also, the transition between the base mesh and the first refinement area shows the same problem.
Here a screenshot with U (dot).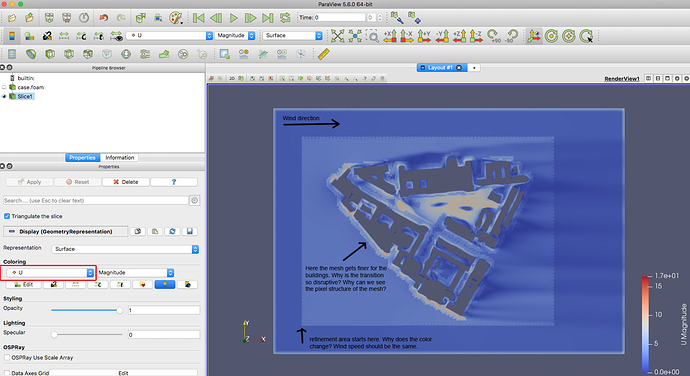 And here with U (box)

Thank you very much for your help!
Best
sholz