Hello,
I am trying to use the animation scene. The pipeline is pretty basic: one pvd file and a glyph filter (see picture).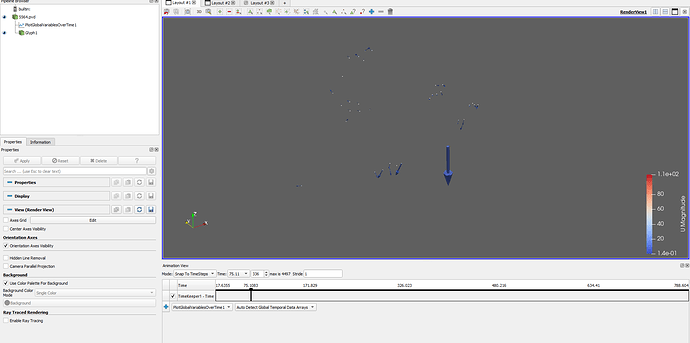 Version 5.10.0: When using the snap to time step mode the animation is super slow, with lags when you pull manually the time cursor. Same for the real time mode, when changing the overall duration to a lower 10s the animation is only showing a sequence of 10 images out of 4497 in my case. So it seems that the glyph filter is really slow and Paraview cannot apply this filter fast enough.
Version 5.8.2: The animation is much faster for this version I don't know why. Really it is night and day. So I guess there is a default parameter somewhere in Paraview that allows maybe Paraview to apply the filter to all timesteps before launching the animation? That's my own interpretation.
Question: Do you know if there are anything that can be done to make the animation faster on 5.10? I would like to precise that I do only one loop of the animation as it is quite long (real time is 788s).