Hi everyone,
the PV user interface could make better use of the available screen estate. In contrast to Blender, I always have the feeling there is not enough space in the PV interface. For example, a range widget uses up a lot of unnecessary space:


Blender makes better use of the available screen space by using compact widgets: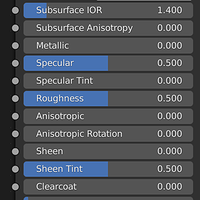 So I was wandering what people think about converting the existing widgets to such a format. If there is interest I would put together a prototype, but I wanted to get some feedback before I spend time on this.
Best
Jonas