Hello,
I'm encountering issues with the vector graphics output (Export Scene > svg > … )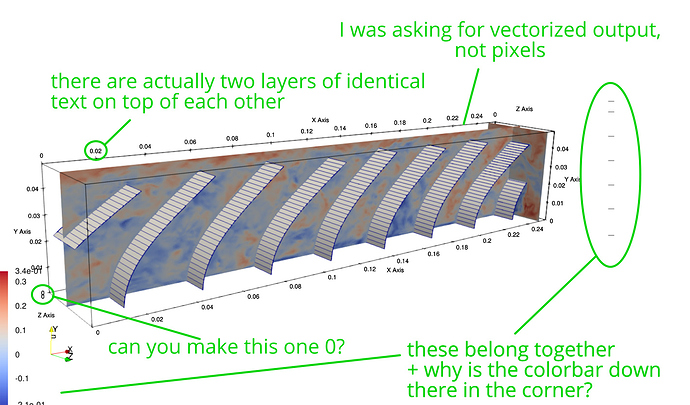 the colorbar displacement appears to be a bug
so do the two text layers on top of one another
Additional wishes for a more usable vector graphics output:
Data Axis Grids commonly share a zero in a corner so it would be nice to have one be omitted
having a tex-engine create the labels would be nice but this is not extremely important to me because I would just have a script process the svg file generating a pdf+tex pair which I can then pdflatex.
If you think about 4, do consider a pdf+tex output. In this case you can do without the tex-engine
I can live with rasterized 3D data, but things like the Data Axis Grid should be vectors.
The coordinate system marker looks awful. I always end up building my own in inkscape, but this is tedious to do. It would be great to have a good-looking marker that is not rasterized in the vector output either. Have a look at the tecplot-marker. It may not be perfect either but I find it far better-looking and having a cube indicate where the 3D geometry is positioned in relation to the marker makes sense to me.
Getting publication-quality plots is such pain right now requiring a stack of at least Paraview+Inkscape or Paraview+Python/Matplotlib among many other workaround solutions.
Please don't get me wrong, I still think that paraview is a great piece of software that I would not want to do without.
Are there any plans for improvements/fixes here though?
Thank you
Bastian
Version: 5.5.0 64bit