Hello Everyone,
I am following the documentation available here to understand how time-varying scalar data has to be
read in Paraview.
For instance, I've imported the static data of a scalar value with the point coordinates in the following format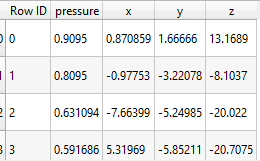 For a time-varying data of the same scalar value, is it required to save the data corresponding to each time instant in a separate file as described in the above-mentioned documentation?
I would like to know if there are alternate ways of importing the time series data. For example, if I have to do the above for 100 time points, 100 files have to be loaded. If there are examples for
doing this using the Paraview library in Python, I would be happy to have a look.
In the end, I want to use SPH interpolator to interpolate the values of the scalar quantity at all the coordinates of a geometry (e.g. presented here) and animate over time.