Hey everyone, came across a new OSPRay bug I'm hoping to get some help on. Most of my simulations have a lot of smooth particle hydrodynamic (SPH) particles. Basically, lots of small particles that I either represent as points or surfaces.
Although with OSPRay Pathtracing enabled, I've noticed that the points will increase in size as the simulation time goes on. For example, a point with "point size" = 1, will be relatively larger later in time than at the beginning of the simulation.
These behavior does not happen with OSPRay turned off. This is extremely frustrating as it means I have to script in a way to adjust the size of the particles each timestep to keep them a constant size.
Example of this behavior: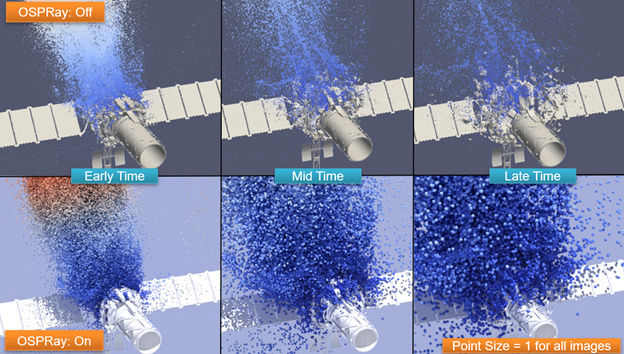 Am I missing a checkbox or filter that will solve this? Or is this a bug within OSPRay itself? Thanks for the help.